One of the perks of working at Dinolift is that you might get the chance to travel to meet potential and existing distributors around the world. Read as Regional Manager Sven Wiese describes his experiences in the Middle East.
What does the work of a traveling Regional Manager entail? Sven Wiese spends a lot of time on the road or on a plane traveling to meet Dinolift's distributors around the world. Last March, Sven found himself on the way to the Middle East, to Bahrain, Egypt, and Saudi Arabia, to be precise. Here is his travel diary where we can follow him on a trip that certainly didn't lack twists and turns!
18.03.2022 Flight: HEL-FRA-RUH-BAH
Left home at 5.45 AM and it was -5°C. On the flight from Frankfurt to Riyadh I had an interesting discussion about renewable energy with a geography student from Oxford University. Arrived in Bahrain, at the hotel at 11.00 PM, +20°C.
19.03.2022 Bahrain
Got up at 7 AM, went to the gym, and had breakfast. After doing office work in the hotel room, at 12.30 PM our local distributor picked me up for lunch. Afterward, I was shown around the city and working sights. After another meeting, we went for dinner, and I was back at the hotel around 7.30 PM.
20.03.2022 Bahrain
After checking out of the hotel, I was picked up at 8.30 AM and brought to the distributor's office. I met with the sales team, and we evaluated the possibilities for DINO machines coming to the market. Spending time with the General Manager as well as the family elders included Arabic customs, which was a great experience.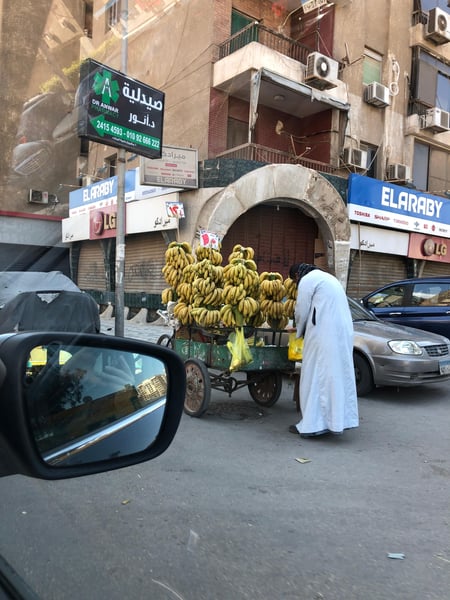 Street life in Cairo is very lively with street vendors and crazy traffic!
Image credit: Sven Wiese

21.03.2022 Flight: Bahrain to Cairo, Egypt
Got picked up at 8.30 AM and brought to a customer's plant to inspect the place and discuss solution possibilities for specially equipped machines with the Project Manager, Head of Maintenance, and Head of Planning Control.
5.30 PM, boarded a flight to Cairo, Egypt. Upon arrival, my driver Ahmed was waiting for me to take me through the crazy traffic to my hotel. At first, he got the wrong address, but finally, we reached the right hotel almost at midnight.
22.03.2022 Cairo, Egypt
After breakfast and gym, I had a meeting from 9.00 AM until 12.30 PM with the staff and the lead manager to present Dinolift and discuss the possibilities in Egypt. Then we took a drive to the workshop (around 30 km) to check the facilities and have a meeting with the Head of After Sales.
On the way back to Cairo we drove through the 'New Capital City', which was very impressive. This massive city is built in the middle of the desert!
Had local specialities for dinner back in Cairo and arrived at the hotel at about 8.00 PM.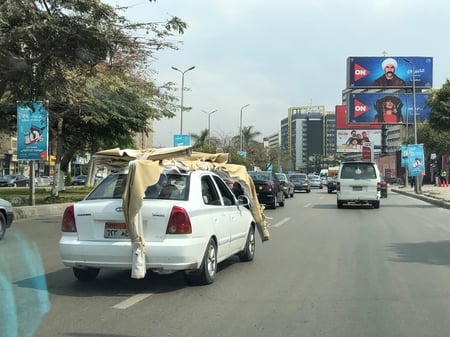 Image caption: On the first morning in Cairo, my driver Ahmed picked me up at 9.00 AM and it took us almost 1 hour to reach the distributor's office.
Image credit: Sven Wiese
23.03.2022 Flight: Cairo to Jeddah, Saudi Arabia
9.00 AM, headed to the distributor's HQ and had a final meeting with them. Arrived at the airport at 12.30 PM. The flight to Jeddah was delayed by one hour, so time for office work. It was the old terminal at Cairo Airport, no lounge, so I was stuck in a small café and was able to buy a Wi-Fi pass.
The aircraft was packed with fully covered women and half-nude men only wearing towels. All going to Mecca for Ramadan.
In Jeddah, I had to haggle with the taxi driver to get to my hotel. He started at 180 Rial, I started at 70. We found each other at 100, which was almost the max I would have paid, after a recommendation from a friend who said the journey should be at most 120.
24.03.2022 Jeddah, Saudi Arabia
9.25 AM got picked up to the distributor's HQ to meet with the sales team. Their CEO was stuck in Qatar but should make it back on Sunday for our meeting. By coincidence an old schoolmate of mine was in Jeddah for work as well, so we went out for dinner in the evening.
25.03.2022 Jeddah, Saudi Arabia
First day off in a while! I spent the day as a tourist having a look around the hotel area and the sea. It's hot, 28°C. The locals didn't leave their cars or houses at this time if they didn't have to (they even drove to the ATMs, which I've never seen before).
Later I went into an air-conditioned mall, which was interesting to check out as they are a potential customer for Dinolift machines. While doing some shopping I checked the access possibilities for the machines as well.
In the afternoon a drone hit a gas tank of a petroleum company at the airport, but far away from where I was. I could see only smoke from the distance, later in the dark a bit of fire.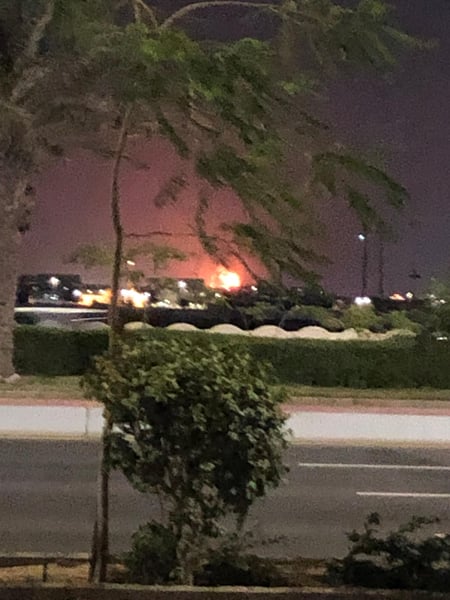 I had read about the drone attacks in advance but because the attacker just wanted to hit the petroleum company, I didn't feel unsafe at any point.
Image credit: Sven Wiese
26.03.2022 Jeddah, Saudi Arabia
Flight traffic was already back to normal, but the company wanted to take me back to Finland immediately, even though I didn't feel unsafe. At 7.30 PM I got the final decision from the management to head back to Finland because of safety reasons.
My journey should have continued with another meeting on Sunday in Jeddah, before flying to Riyadh on Monday to participate in a trade show and meet customers with our distributor until my flight back to Helsinki on March 31st.
27.03.2022 Flight: JED-DOH-HEL
After 2 AM I passed the security check and was able to have breakfast in the lounge. In the afternoon around 1 PM, I was back home safe.
Reflections
Great experiences with a travel distance of over 15.000 kilometres. Everywhere, no matter what country or person, I was always warmly welcomed and had the chance to see and experience so many fantastic things and meet many people, for which I'm very thankful. It was exhausting, no doubt, but the experiences helped me connect with customers in a way that no virtual meeting could.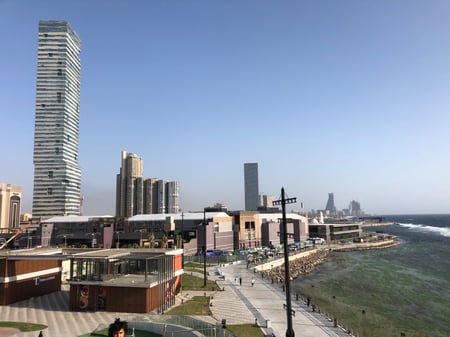 Although my time was cut short in Jeddah, I got to experience the hot weather and the amazing coastline.
Image credit: Sven Wiese