Finland is known for its healthy lifestyle, but what role should companies play in making sure its employees are happy and active?
Finland is a country built for exercise. The vast majority of pavements have a dedicated cycle path, allowing adults to commute to work and children to school. In the summer months, long forest and lakeside paths are complemented by the country's Everyman's Rights (Jokamiehen Oikeudet), which allows every person access to the countryside regardless of who owns it. This also includes the right to pick berries and mushrooms from the forest free of charge.
Of course, this is also a nation famous for its long, snow-packed winters. For the Finns, this is not an issue. Cars are fitted with winter tyres, the roads are cleared and people simply get on with things. During the colder months, gravel football pitches are transformed into well-maintained ice rinks by the local council and everyone is able to use them. There are also designated cross-country skiing tracks marked out for those who fancy some endurance fitness.
Artturi Eklund is a production planner at Dinolift and often makes use of these free facilities. "Loimaa, where Dinolift is based, has a number of different sports opportunities. In smaller areas, outdoor ice rinks are well looked after and that is really great to see."

Katarina Wikman, a machine document coordinator at Dinolift, agrees. "I love visiting outdoor activity parks with my young nephew and I used to spend a lot of time on the outdoor rinks – back when we used to have proper winters."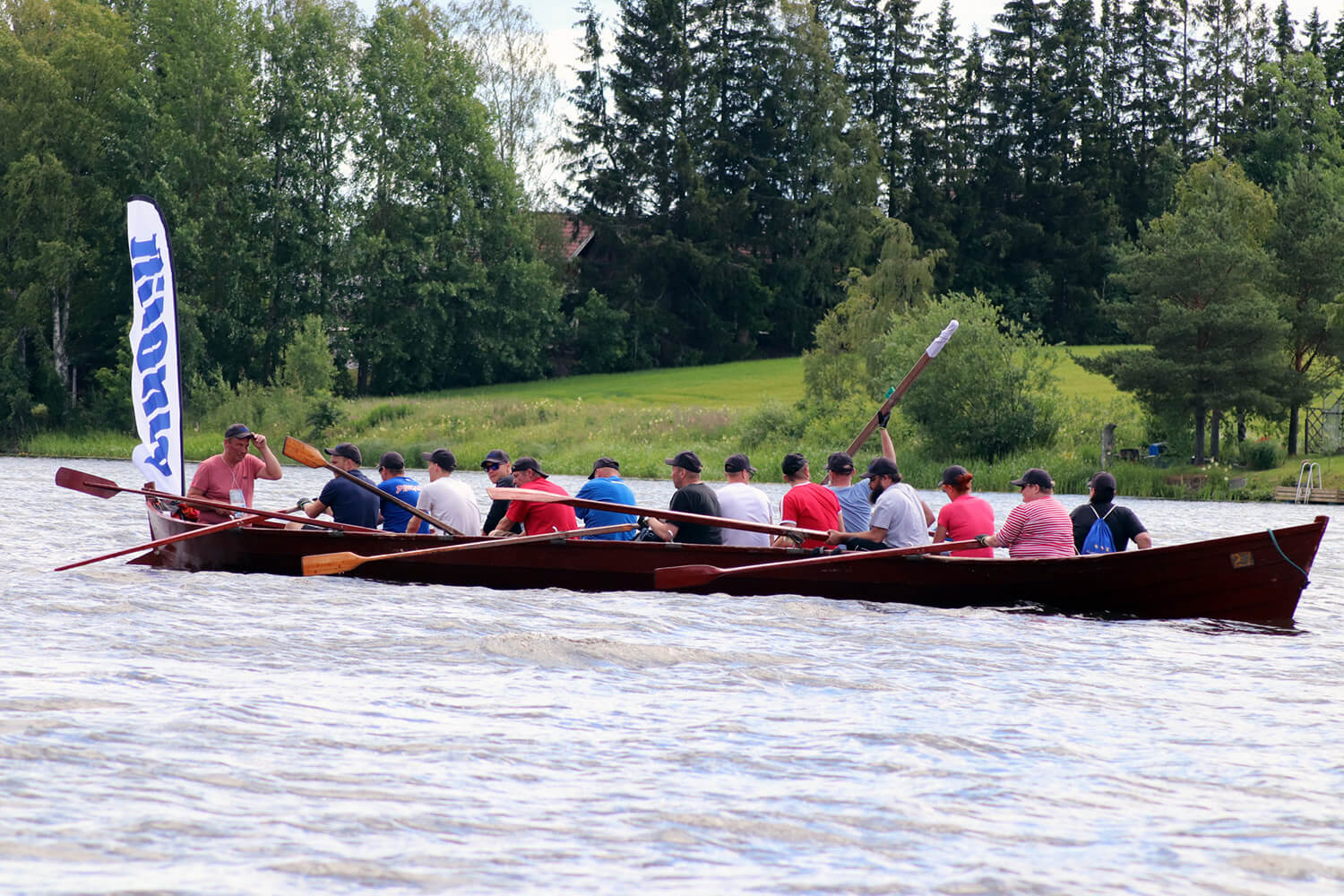 Along with ice hockey and floorball, Dinolift has entered rowing teams into nationwide competitions.
Photo credit - Dinolift
A moral responsibility
As well as these free-of-charge facilities provided by the state, companies often take a role in making sure that their employees are well looked after and strike a healthy work-life balance. Dinolift is one such company and we are very keen to ensure that everyone stays active, both physically and mentally.

First and foremost, Dinolift provides each and every employee with a full and comprehensive healthcare package. "We have a wide occupational health service that goes beyond regular doctor appointments. If you are struggling with your weight, posture or eyesight, for example, this is included. Mental health is also covered in this plan, with psychologist and psychiatrist appointments available," says Reija Högerman, an HR manager who joined the company in August 2020.

Further, the company runs a series of sporting alternatives that workers can also use, including swimming slots, gym time, tennis and badminton. Dinolift also has company floorball and ice hockey teams in conjunction with other local companies, which are popular with employees of all ages and abilities. There have even been rowing teams entered into nationwide competitions, although the emphasis has always been on fun rather than winning trophies.

Eklund is a seasoned member of the ice hockey team and proud of his involvement. "The DINO team combines an experienced and calm defence with an eager and youthful attack. We have a great mix of players, with established oldies and some new youngsters, who fit in right away," Eklund says with a wry smile.

Wikman also takes advantages of some of these options. "Free entrance to the local swimming hall and gym twice a week speaks to me! As the pool is on the way home, it cannot get much easier than that to go there. Dinolift providing basic healthcare is also an important plus."

Keeping on the sporting theme, Dinolift has season tickets for Bisons, Loimaa's top division basketball team, and Hurrikaani, the town's successful volleyball team – which has also been sponsored by the company for several years. These tickets can be booked in advance every week of the season by any member of staff and are always very popular.

DINON Wintti, the work cafeteria, also provides healthy meals packed full of vegetables and a variety of options, meaning employees can maintain a balanced diet even when they are pressed for time. The area is also used for coffee breaks, which give people a chance to catch up on the local gossip or discuss the progress of a new project. The talented ladies who work in the canteen are currently planning a Finnish Christmas feast for December, to which everyone is invited.
Cultural vouchers
The people at Dinolift believe that health and well-being go far beyond staying physically active. To that end, the company encourages employees to live healthy lives outside work by offering all non-smokers cultural vouchers. As well as being accepted by a majority of sports centres and gyms around the country, these vouchers can also be used across a wide variety of cultural fields.

For example, the local cinema accepts these vouchers, making it an extremely popular choice of venue for the good people of Dinolift. Bowling alleys, museums, spas, concert venues, theatres and fitness studios are also represented, allowing for an array of opportunities that people perhaps would have thought twice about visiting had these vouchers not been available.

Wikman always goes straight for an annual museum membership card. "A safe investment is always the annual museum card, with which one can visit as many times as desired and there are certainly many museums and exhibitions to visit. Other places I have used them include a climbing park, for short period gym cards and renting kayaking equipment."

Employees have even started their own music band, which has been booked for numerous Dinolift events and is greatly appreciate when it comes to party season.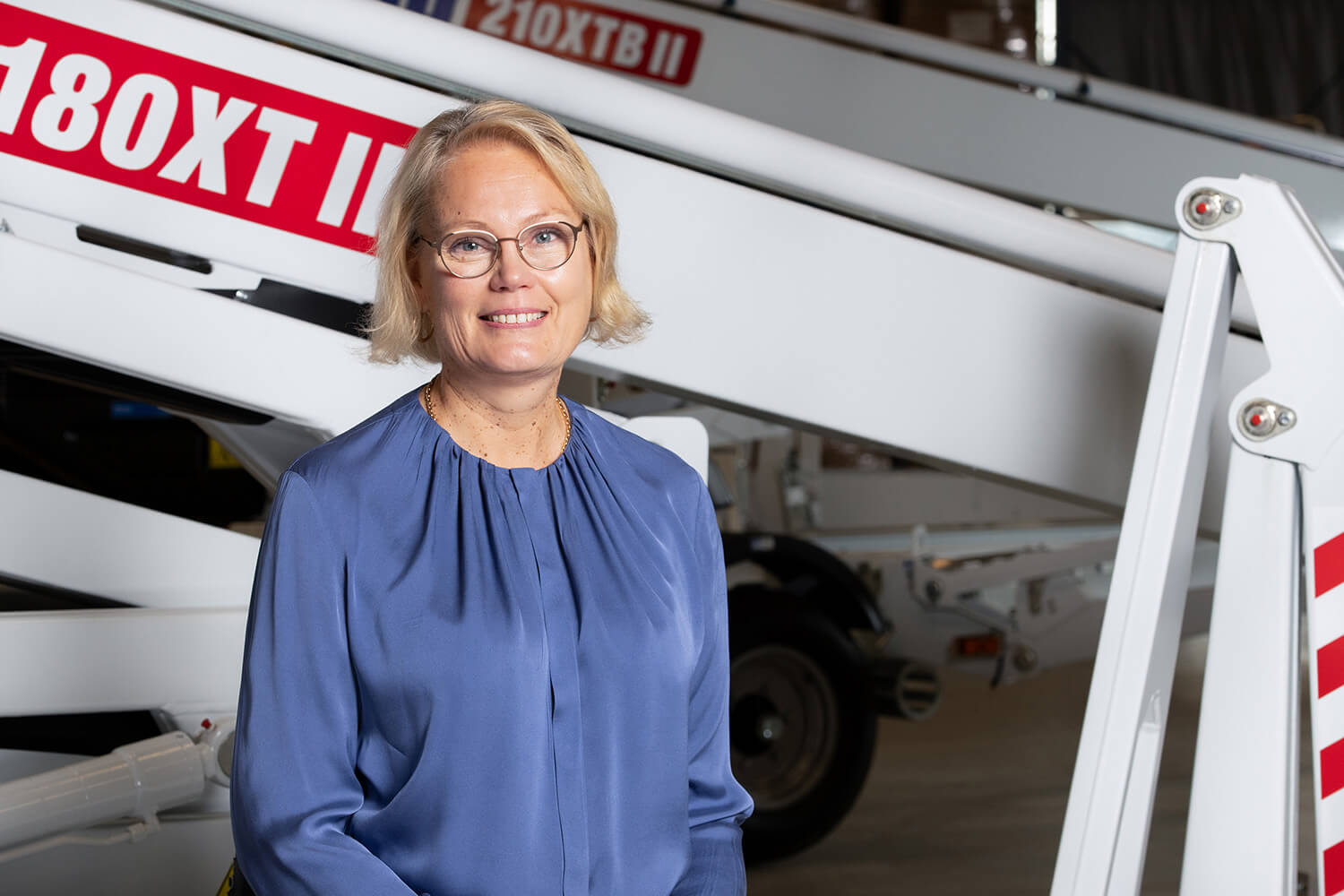 HR Manager Reija Högerman joined the Dinolift team in August 2020.
Photo credit - Dinolift
Flexitime
Flextime is also a mainstay of company policy. This allows employees to have some breathing space regarding when they start and finish the working day, which is particularly welcome for those with children. This is closely monitored by the HR department, who follow up each person's hours every month. If there is something alarming, a supervisor will talk to the employee to see if someone can help with the workload or whether resources can be redirected to take the pressure off.

"I will tell you a short story," Högerman says of the flextime concept. "I have worked in several companies and this is the first where people come to work at 5 am. Here, we have many employees who also have farms, so they prefer to come to work early and leave earlier. This is absolutely fine for us and lets them do their own thing in the afternoons."
The final word
When deciding if this approach works, it is only appropriate that we ask the people who it is focused towards. Wikman thinks about the question for a moment and then says: "I often find my job tasks entertaining, so work doesn't give me any negative stress. However, it is always good to keep your hours on a tight leash – daylight is so scarce and precious in Finland in the winter, so it is good to get out while it is still light."

Eklund is of a similar mindset. "I believe that all my tasks are important, but I am lucky that after 10 years with the company I still feel as though my work is particularly important. It can be challenging to balance everything, but an active family life and hobbies keep the mind busy."

"For us, it is a very simple formula," Högerman concludes. "If a company takes care of its employees, they will be more engaged with the company. Here at Dinolift, we provide a stable job in a solvent company. People also know that the owners are not come faceless corporation. This is a family company with real people running it."