Dinolift's CEO Karin Nars discusses taking over a Finnish company, how we need to challenge gender roles and the prevalence of women in the workplace in 2020.
For more than a hundred years, Finland has been heralded as a modern, forward-thinking nation that treats everyone within it equally and without prejudice.
Finland was the European country to implement universal suffrage in 1906 and ever since women have been treated equally to men. However, recent research by the Finnish Health and Welfare has revealed that the country still suffers from gender segregation in the workplace. Over 90% of traditional female roles in childcare, secretarial work, healthcare and cleaning are still undertaken by females.
Karin, is Finland the perfect society it's made out to be in the media?
In Finland, everyone certainly has a chance to be part of the workplace. We have maternity and paternity laws that are among the best in the world and we are getting better at implementing them in practice, meaning there is more talk about supporting families as a whole and not only working mothers. Our education system is also completely free all the way through to university level, while the healthcare system is means-tested so that everyone can afford to be treated.
In 2019, Sanna Marin was appointed prime minister at just 34 years of age, making her the youngest serving state leader in the world at the time. Marin oversees a coalition of five parties, all of which are led by women. Finland is a country I am proud to call home, but, like all countries, we have our issues.
You took over from your father as CEO at Dinolift. What was the transition like?
Overall, I felt it was more important that I was of a different generation rather than the fact I was a woman. I had to come in and make the necessary changes, while ensuring everyone was on board. That I shared many of my father's values gave a foundation of trust and allowed me to carry the team forward. For many of our distributors and customers I think it came as a natural change, as I was known and perhaps viewed as a 'safe appointment'.
Karin believes that children should grow up to be whatever they want, regardless of gender.
Photo credit -TK Hammonds, Unsplash
How did life before Dinolift prepare you for the role?
I had a small business of my own early in my career and I learnt a lot from that time.
It also gave me the ability to fulfil my traditional role as a caregiver and flex my business muscles. I wanted to combine work with having children and being present for them, so this was the perfect balance for me.
However, the financial crisis was hitting hard and there were problems at Dinolift because of this. I was already a board member, so I decided the time was right to join the family business.
Unfortunately, my father became ill around the same time and within 19 months he had passed away. It wasn't on the cards for me to take over so soon, but these things happen in life.
What were your reservations about coming into the job as a young female?
I have never felt that anyone has looked down on me because I am a woman. I trust that they see me as someone who makes good changes and developments within the company. I have always honoured the work done in the past. It is a case of building on success rather than changing for the sake of change.
Even though I share many of my father's principles managing the company, I am a very different leader to him. In a way, this gave me the opportunity to be my own person, rather than someone coming in who was more similar to my father from an experience or physical appearance point of view. In this regard, being a woman actually made it easier to just be myself as a leader.
Have you witnessed an increase in women moving into your industry?
We definitely have a lot more women in the factory. We have found people with broad backgrounds who maybe didn't initially see themselves in this industry but have gone on to excel here.
When schools come to visit and they see many women, the kids realise it is also possible for them to move into these roles. Then, we create a snowball effect.
We need to read more stories of diversity in the workplace and, being a woman in a male-dominated business, I am happy to share my story. If it helps someone who feels like an outsider find the courage to join our industry, it has a purpose.
Meeting quotas v hiring on merit – where do you stand?
My personal view is that you hire on merit, motivation and interest. If you want to develop and have drive, that is what counts. In a management team, it is important to have different points of view, angles and diversity, but in a company like ours we need to make sure that people have the merits first and foremost.
If two people had completely the same merits and the only difference was gender, then I would probably pick the woman as this would bring in different perspectives and points of view.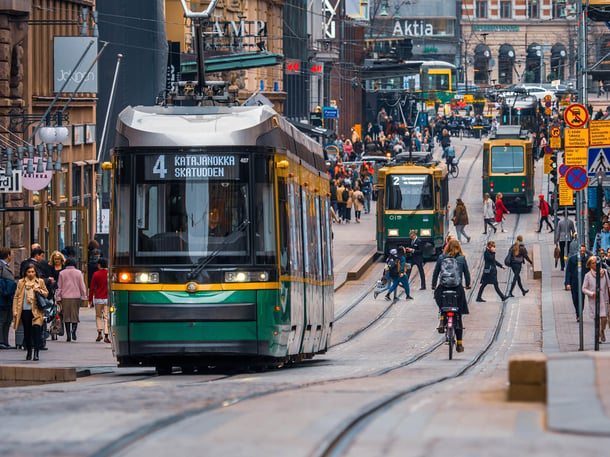 Finland is known as one of the most progressive countries in the world.
Photo credit - Tapio Haaja, Unsplash
Is being a Finnish company an advantage for you personally?
Finland is undoubtedly a good place to be a female worker, but there are still inequalities within family roles and at school. I have talked about this with my younger son, who has also seen that even though equality is discussed, boys and girls are treated differently. For example, teachers sending emails or messages only to a child's mother because society says that she is the primary caregiver.
We also have a lot of work to do to change traditional role models. I was not raised first and foremost as a girl, I was raised as a child. My parents never said that my sister or I couldn't do something because we were girls. When I discussed a role at Dinolift with my father, it wasn't a question of gender but whether I had the needed skills for the job and if wanted to or not. I think that it is important to remember you can't push anybody into a role they do not want to have. It's very hard to succeed at something you don't want to do.
Are gender roles still a relevant topic of conversation in 2020?
We shouldn't be talking about this today – people are people and gender shouldn't be a barrier. However, I know that there are many situations where it is a factor, so that means we have to keep talking about it. Maybe we need to go back to how we treat children when they are small and start from the very beginning. Every child should hear that you can be anything – even the youngest prime minister in the world if that's what you want!
Text: Craig Houston, Editor, Spoon Agency