Dinolift Oy is a Finnish company that manufactures and sells high-quality MEWPs, mainly to the rental business, but also directly to the end-users. DINO MEWPs allow you to work above ground safely and effectively while offering an enjoyable user experience. The entire DINO range is known for its superior quality and safety.

Up to the challenge and made in Finland since 1974
DINO lifts are sold to more than 40 countries around the world, with exports accounting for as much as 85% of the production and the main markets located in the Nordic countries and Northern Europe. Dinolift offers lightweight booms that function exceptionally well even in cold and demanding weather conditions. In fact. DINOs are often referred to as the Aston Martins of hand made MEWPs and the lifts stand out in competition due to their high quality and versatility.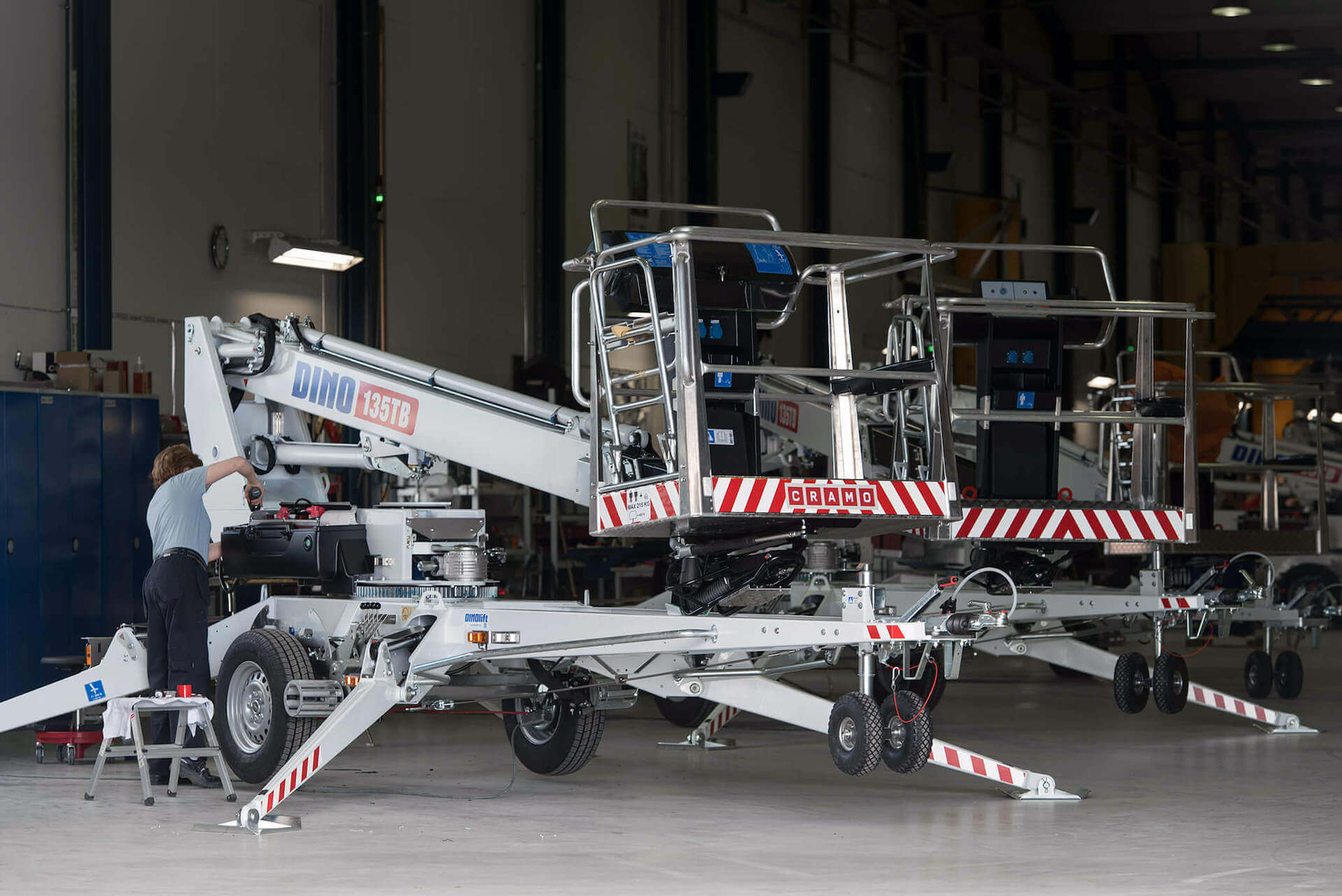 Designing top of the range DINOs
All DINO MEWPs are developed to solve our customers' needs and challenges. The design stage of the production is done in close collaboration with distributors, partners and customers alike. The initial wireframe design is followed by the creation of a 3D design of the lift using modern 3D modelling tools. All phases of the design process are characterised by maximum attention to detail that results in developing a finished product that satisfies the real needs of our customers, both end-users and professional hirers. Moreover, all DINO MEWPs are extensively tested to ensure compliance with the target market standards before being released to the market.
Sustainable production - how production materials affect the end product
In the production stage, choosing sustainable and high-quality materials and committed suppliers of said materials are of importance. Every DINO is designed and manufactured in-house using only the most durable components and steel that is 100% recyclable unlike for instance aluminium. Dinolift has been awarded both the ISO 14001 Environmental Certificate as well as the ISO 9001 Quality Certificate.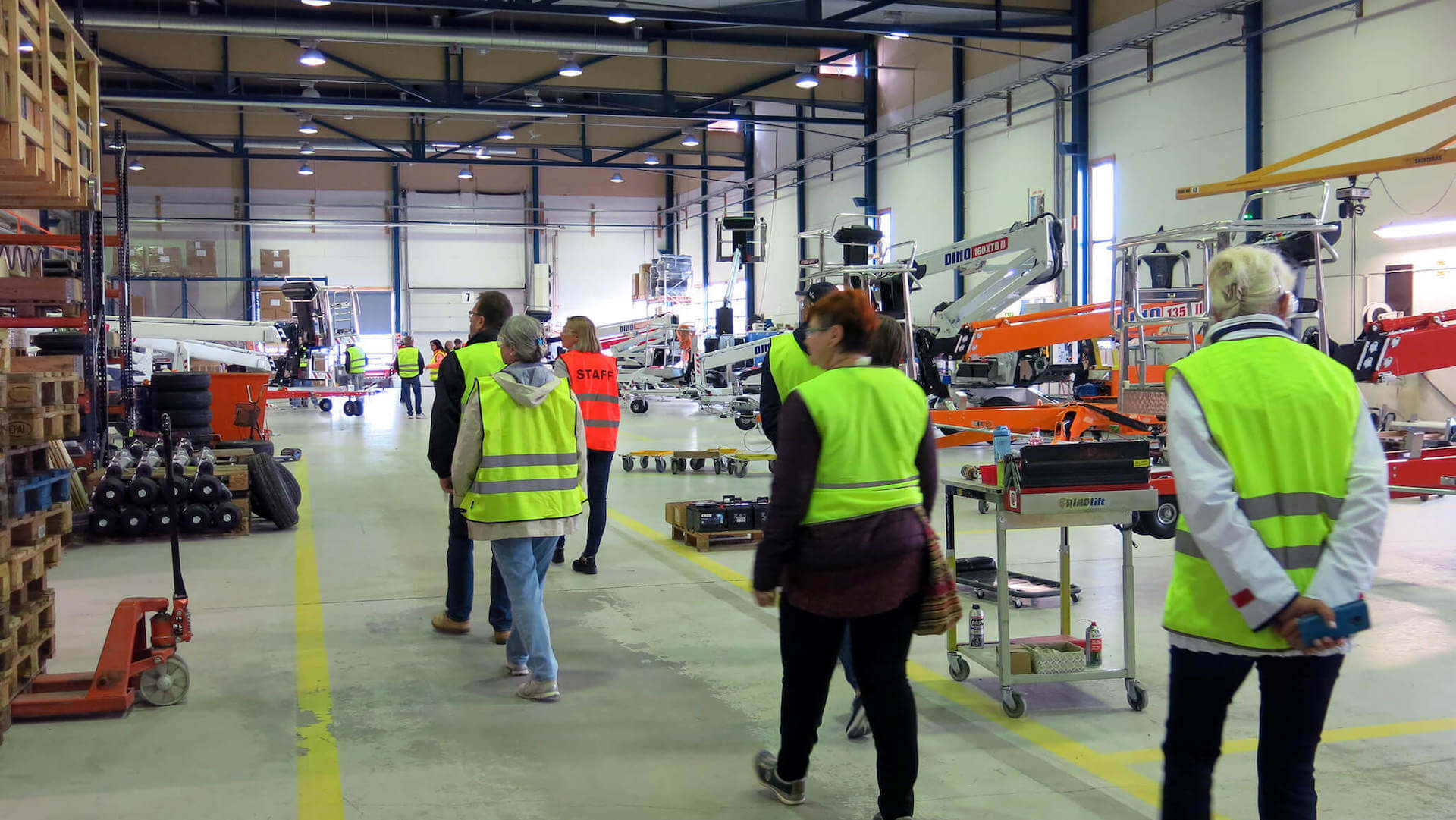 Another important aspect to consider, are the emissions that arise from the production of steel. Every kilogram of steel produced will result in two kilograms of emitted CO2. Due to its lighter weight, less tonnage of steel is used in the manufacturing of these booms. It is estimated that CO2 emissions from the production of these MEWPs can be reduced by as much as 72%. See our blogpost containing more eco-friendly aspects here.



Hand made - the Aston Martin of aerial lifts
At the Dinolift factory in Loimaa, Finland the entire range of DINO lifts are assembled. The booms and chassis are welded and assembled by hand, ready for industrial coating.
The machined parts are surface treated, a four-step surface treatment process that will achieve a C5-M corrosion resistance grade. All welders are certified and the welding workshop activities are audited by a third party on a regular basis and according to industry standards.
The final assembly takes place on an assembly line where the lift moves from one screen to another as the assembly work progresses. Dinolift production maintains a high degree of self-production, as even the cylinders are produced in-house to ensure quality, reliability and supply of spare parts.

Final testing - ready to rent
All lifts are subjected to a rigorous final testing process. The test phase automatic 8h test program will run all functions to ensure the highest safety measures. The testing is followed by the final inspection, carried out by a certified aerial lift inspector, after which the lift is deemed "ready to rent". Dinolift is fully committed to safety and has been a member of IPAF since 1997.
Safety is our core value – Trust us to be up to the challenge.