Our family-owned company currently has more than 200 employees, each of which brings their own personality to the job. It's time to meet them!
Without its employees, a company is nothing. The staff at Dinolift are talented, dedicated and bring so many different qualities to the company. As well as speaking to some of them about their jobs and what they do, we wanted to get an idea of the people they are, what makes them tick and their passions outside work. So, please meet some of the employees who make Dinolift great!
Timo Knuutila, COO
COO Timo Knuutila loves nothing more than travelling and reading up on Finnish wartime history.
Photo credit - Dinolift


Timo is a relative newcomer to DINO team, having joined in January 2020. A Loimaa native, he was immediately struck by the professionalism of the company during his recruitment process. "I was impressed with how DINO carried out the different phases of the process and how they used team members' competences during the interviews. I got a very good understanding of the company and felt that different members really formed one team," he recalls.
No two days at work are the same for Timo and this is something that fascinates him. He is constantly involved in meetings, preparing, reading and analysing different reports, as well as executing each and every plan in the best possible way. "If something is not going how we planned, my job is to ensure that we make the needed corrective actions to get back on track."
If he could change anything about his role, it would be to have more time for brainstorming. "I think the COO responsibility allows me the power to influence this area. However, discussions with our staff is something I would like to find more time for in my calendar."
Away from work, Timo enjoys reading about Finland's wartime history, skiing and getting out into the vast Finnish forest. "I also love to travel across central Europe – I'm at my happiest spending time in Bavaria, Germany or visiting small Austrian villages."
Santtu Miinalainen, Foreman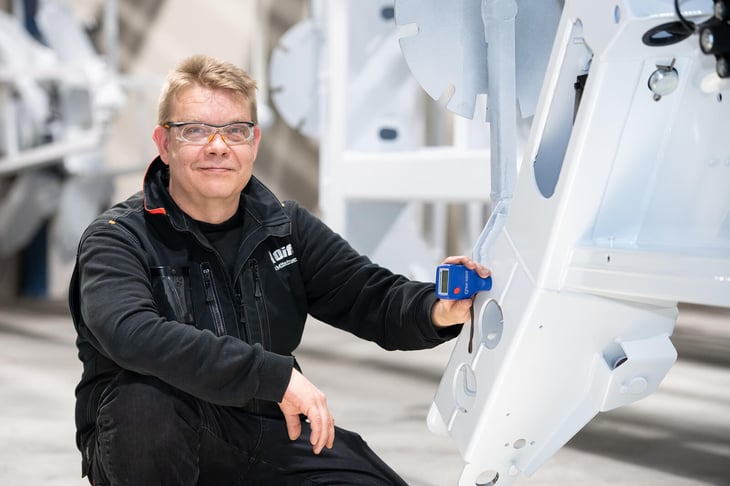 Santtu is a foreman at Dinolift and self-confessed petrolhead in his spare time..
Photo credit - Dinolift


By day, Santtu Miinalainen works as a foreman in the surface treatment, cylinder manufacturing and turning device teams. The father-of-three's job begins between 5 am and 6 am every morning – before most people are awake! After sorting through emails and the previous day's operations, he takes a tour of the paint shop to make sure everything is as it should be.
He then handles paint orders and settles into an afternoon of meetings with colleagues. "Working with people is the finest aspect of this job. I really couldn't imagine myself stuck inside four walls doing some kind of work where I hardly see others," he says.
But when the working day ends, Santtu turns into a musical petrolhead. "I just bought a '92 Honda Del Sol as a hobby car, which should be fitted with a turbocharger during the winter, and I'm also chairman of a 300-member local motorsport club."
He also plays guitar, which has led to a place in the DINO company band. "The first gig we played was incredible. The company organised a Christmas party and we formed a small four-person band that performed for the entire staff. Since then, we've played at many Dinolift parties and Christmas parties."
When asked how he would change the world, he simply replies: "There is a saying in Finland that the world will never be finished. If I had the choice, I would at least like to make it safer for everyone."
Minna Arola, Spare parts coordinator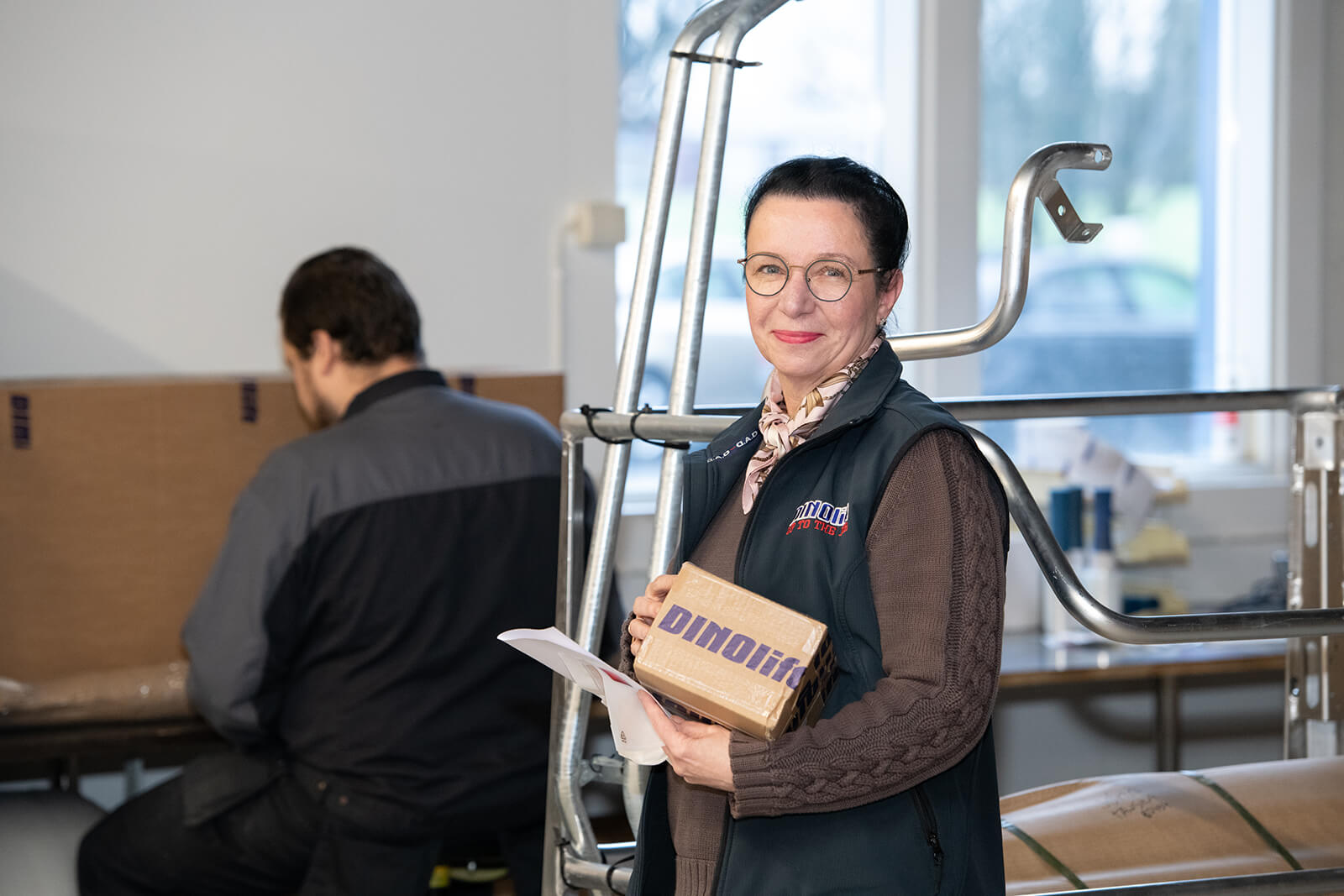 Formula 1 enthusiast Minna loves the unpredictability and fast-paced nature of her workday.
Photo credit - Dinolift


"'Today, not tomorrow' is my motto," says Minna Arola, team leader at DINO Spare Parts. "For me, the customer is the absolute number one. I love my work, because it is fast-paced and I get to make quick decisions that are specifically in the best interests of the client."
This kind of determination shows in everything Minna does. "I like that work starts with a bang, as I never know in the morning what the coming day will hold when it comes. My day is non-stop and a situation can change in a matter of minutes."
The speed of her life does not drop away from work, either. "I currently play badminton weekly. Otherwise, my daily life is spent mainly on household chores. Almost every weekend I settle down to enjoy Formula 1 racing – these races seem to be the only time when it is not possible to reach me."
One of Minna's favourite Dinolift memories involves the company's late owner. "When Lasse Godenhielm turned 70 years old, an oak tree was planted in the Dinolift yard in honour of his birthday. This oak, which has grown a bit since, still draws my attention every day as I drive into work and makes me remember the day we planted it."
Matti and Niklas Boman, Regional Manager and RXT Assembly & Testing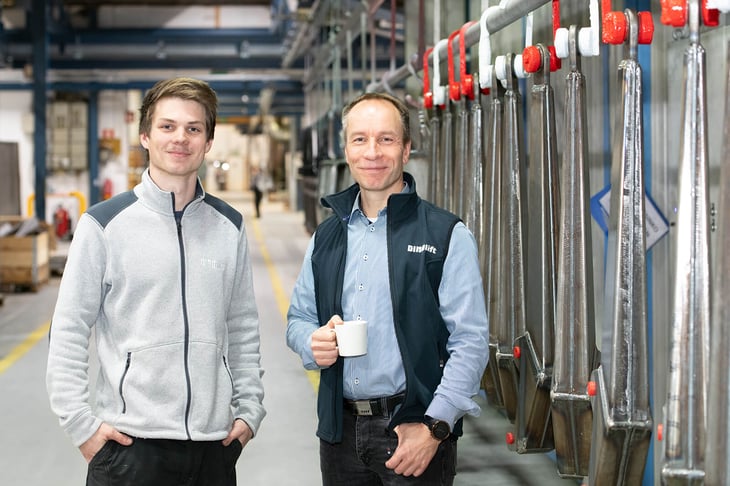 Father and son Matti and Niklas Boman disagree when it come's to dad's musical skills.
Photo credit - Dinolift


Matti and Niklas Boman are a Dinolift father and son dream team. Matti is a regional manager in the sales team, while Niklas started at Dinolift as a summer inter aged 15 and now works in the RXT assembly team.
For Niklas, quality control brings a great sense of satisfaction. "If there are any problems with the test run, I can investigate and make corrections. This part of the job is crucial and by ensuring RXT functionality, I am ensuring DINO quality and that feels good!"
Matti mentions that he has missed the social contact of interacting with customers, co-workers and teammates during an unusual 2020. However, he relives the stress of working from home by throwing himself into sports and working towards his next triathlon.
Is there anything that Niklas would change about his job? "Yes," comes the reply. "I work outside a lot, so I would like to change the autumn season. Less sleet and more sun, please." Matti's mind is more geared towards changing the planet. "I must say I'm worried about climate change. We need to make the right choices now and not in the future – both on a personal and company level. I'm happy that at Dinolift environmental values and sustainability are well recognised in our strategy."
When asked to name something that no-one knows about him, Boman Senior turns to his son and proclaims: "I'm a great air saxophonist!" Niklas neither confirms nor denies this claim…
Mauno Molander, Machining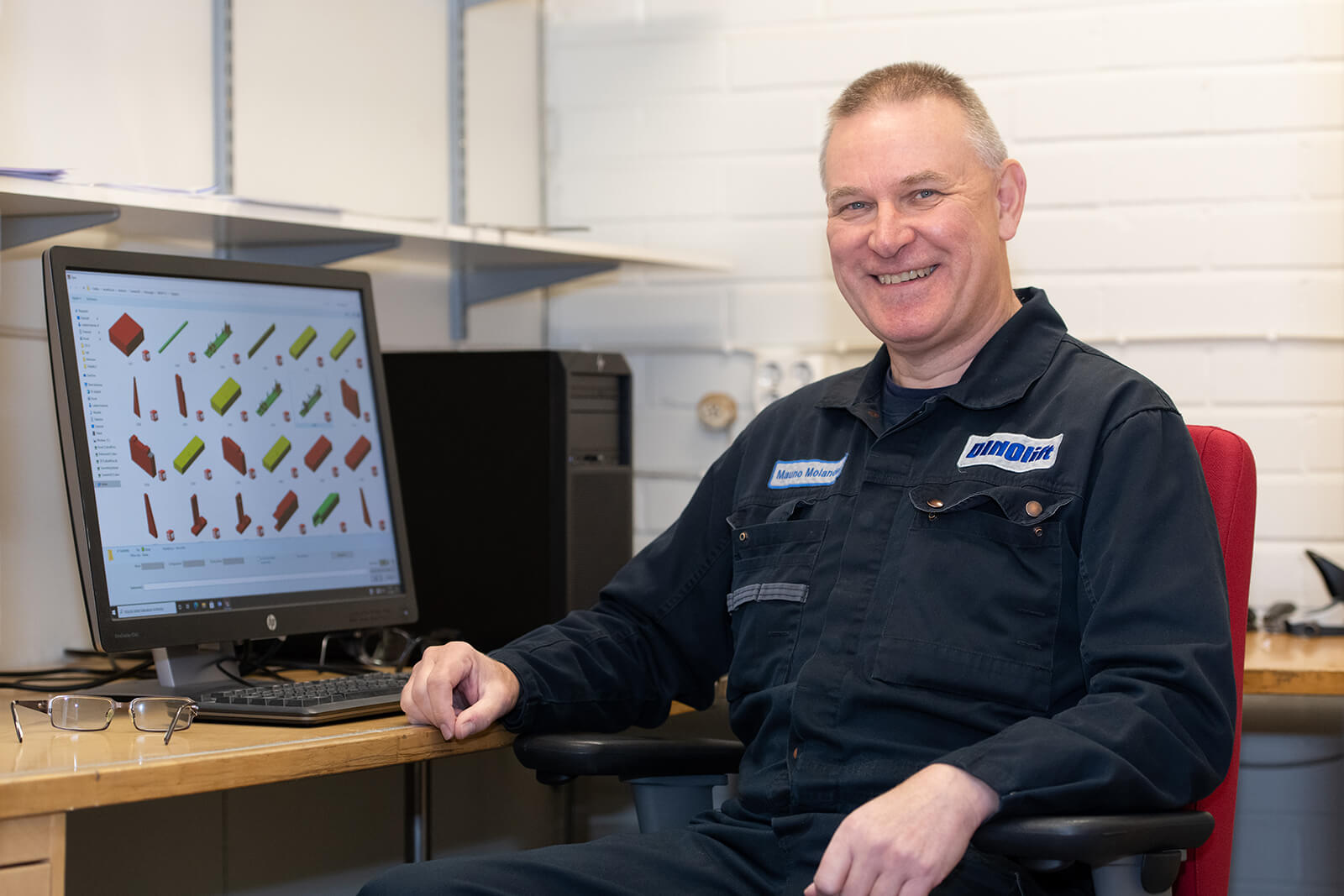 Mauno Molander has been at the company since 1977 and is Dinolift's longest-serving employee.
Photo credit - Dinolift


Mauno Molander is something of a Dinolift legend. He started working at the company in 1977 and has been here ever since – making him the longest-serving employee. "This was my first ever job," he recalls. "I started by working on a column drill 43 years ago and have progressed through the ranks. Today, I design components for welders and machinists as well as programmes for machine centres."
What keeps Mauno's job interesting is his love of problem-solving and the fact he has been able to work in different areas of the Dinolift campus. "Back in 1984, I was chosen to operate a large CNC machine. I was surprised I was picked, as I presumed a more experienced operator would take the role. The transition from manual to CNC was a big leap, but it has stuck in my mind ever since. The same machine still makes DINO parts today!"
After so long on the job, how does Mauno relax away from the workplace? "I read a lot and take regular exercise – walking in the winter and cycling in the summer." Reflecting on perhaps his strangest year at Dinolift, he says: "There is not much I would change about this job, although there could be a little less rushing. At this point, I just want rid of this Covid-19 virus so we get can back to normal."