What does 2021 have in store for sales as we look to combine the physical and digital worlds?
The world of sales is going through one of its biggest and most challenging periods for a generation. Team members are restricted to their own countries and, in some cases, homes, whereas the start of a new year would normally be buzzing with the planning of expos and making sure they could meet clients all around the world face to face.

Just like its predecessor, 2021 will bring with it a new series of challenges to overcome and hurdles to cross. But, how will the year unfold and will the physical and digital worlds be able to work together in the long-run?


Initial challenges
"Working remotely has been both a shift and a challenge," according to Sven Wiese, Regional Manager at Dinolift. "While the older generation had to get to grips with working digitally, younger folk had to work out the difference between being online and working online. Before, people were forced to use these devices but now we are all used to them, so it is a great opportunity for the future."

Jussi Saarikallio, Dinolift's After Sales Engineer, believes that his area has been less impacted by the change, as it was already in the works when the pandemic hit. "People in Dinolift's after sales department mostly travel for training purposes, so we were able to adapt rather quickly to virtual training sessions – especially because this has been in discussion for a while. We were able to provide virtual training for our new distributors, to make sure they have knowledge about how to operate and service the machines."


A hybrid future
So, what of the future? Given that we have learnt a great deal from being able to work remotely using digital platforms, there will surely remain a place for them in the events of the future. At Dinolift, we see no need or desire to discard options that have improved the world of sales and developed in a very short period of time, particularly as travelling will decrease in the post-Covid world. Remote workshops that were simply not possible 12 months ago can now be run efficiently, using newly-developed tools such as digital whiteboards and post-it notes.

We feel that virtual events will be a very useful addition to our sales approach in the future. While they will never replace physical events, the benefit that they can bring as an addition – not to mention their worldwide reach – means their potential is huge.

Indeed, January 2021 represented our very first attendance at a digital trade show. The US-based TCI Virtual Summit 2021 is aimed at the tree care sector and has always been an important event for us. Here, we saw the real global benefit of digitalisation, with our stall 'manned' by a Finnish-American sales team – despite the small factor of the Atlantic Ocean separating them.

For the sales team themselves, it will certainly allow people to literally be in two places at the same time. Priority will often be given to physical events, but other dates in the calendar that may have previously been missed due to scheduling conflicts could now be attended – even while on the road.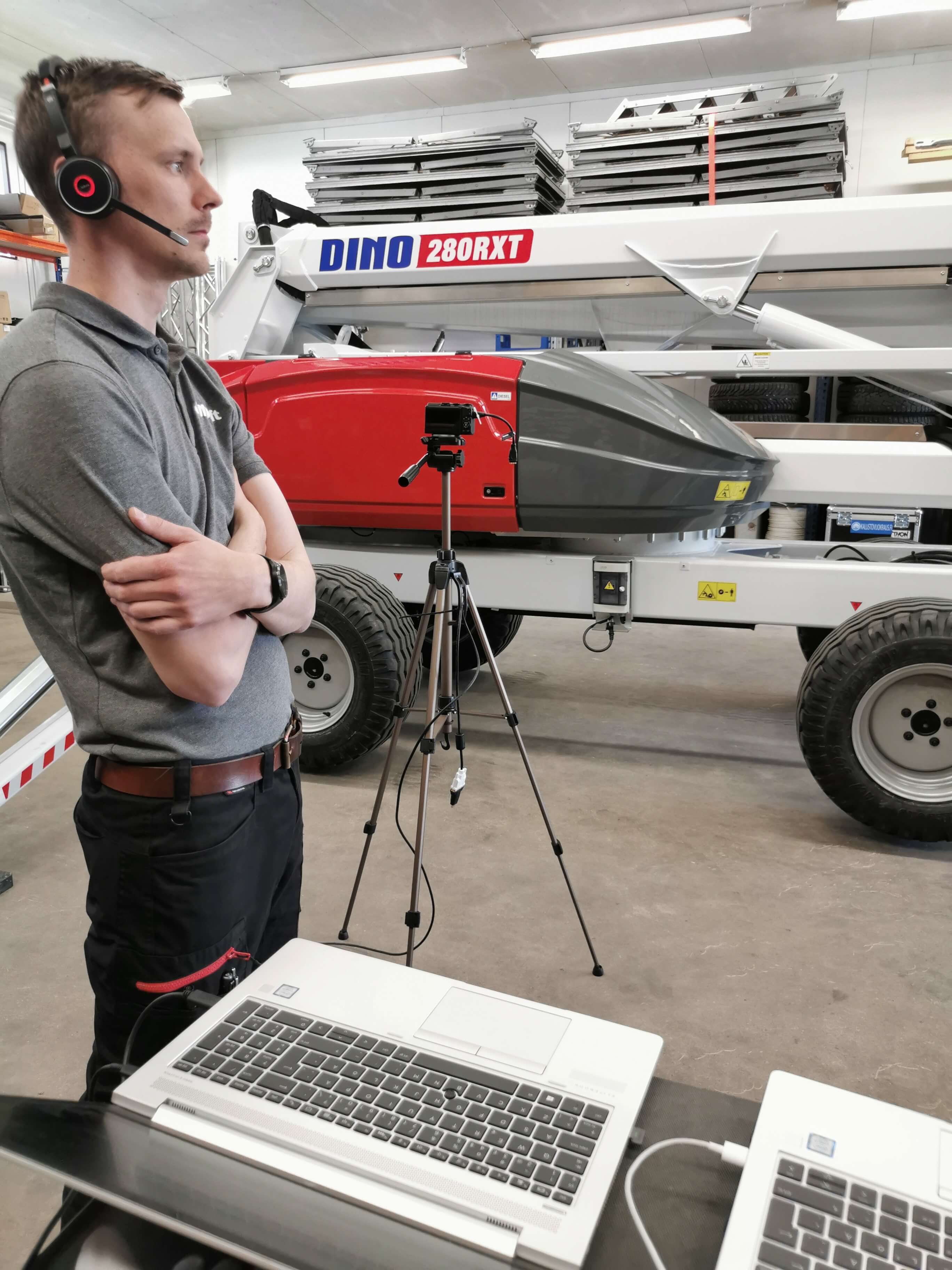 Jussi Saarikallio and his team have adapted training sessions to work completely online.
Photo credit - Dinolift
Longing for face-to-face meetings
There will, of course, come a time when we will be able to throw off the shackles and once again travel to meet clients and distributors, as well as attending events around the world. However, will this result in us appreciating these interactions much more after so long away? "Yes, absolutely," says Wiese, who joined the company last March as we were all forced into this new way of working. "You cannot replicate face-to-face meetings. You can replace what we used to call 'coffee flights', which is when you visit a client or distributor just to show face, but it will never be replaced entirely."

Saarikallio agrees. "I think meeting customers face to face will have more meaning in the future. I believe that customers also appreciate that you have a meeting face to face instead of a Teams meeting. This way, the customer is aware of how much they matter".

In the meantime, how can we establish and build relationships with people without being able to meet in person? Saarikallio believes it is a matter of covering all bases. "You need to actively come up with different ideas on how to support your customer. The most important thing in after sales is to make sure that customers have all the information available and are able to ask questions," he says.

For Wiese it is all about investing that time saved by not travelling. "There is no secret here, the answer is simple: time investment. Find a time when they are free and happy to talk so that you can have a longer chat. Only by putting in the time to get to know people will you be able to strike up a working relationship," he muses.
Work and personal advantages
While we are certainly in challenging times, there have been a number of benefits for the sales team, both in a professional and personal capacity. The lack of travel time has resulted in more time being spent actually talking to clients and distributors.

"It is sustainable for the environment. It also saves you a lot of time and the company a lot of money. This is what I appreciate from the situation," says Wiese. Saarikallio feels that this new way of working has opened up different and exciting avenues for growth. "The current situation has offered tremendous leverage for different companies to get things moving towards new type of sales techniques and digitalisation in general. We have to create the same connection between the customer virtually, which normally would be done in person," he says.

There have also been benefits to working from home. Saarikallio says that "the most important thing is that you are close to your family, as this current situation is not easy – especially for risk groups." While Wiese also shares the same view, his take is slightly different. "From a family point of view, it is great I am home – although they are not used to it so perhaps it is a little too much for them! I am used to taking up to 100 flights per year, so that change to my schedule has been massive."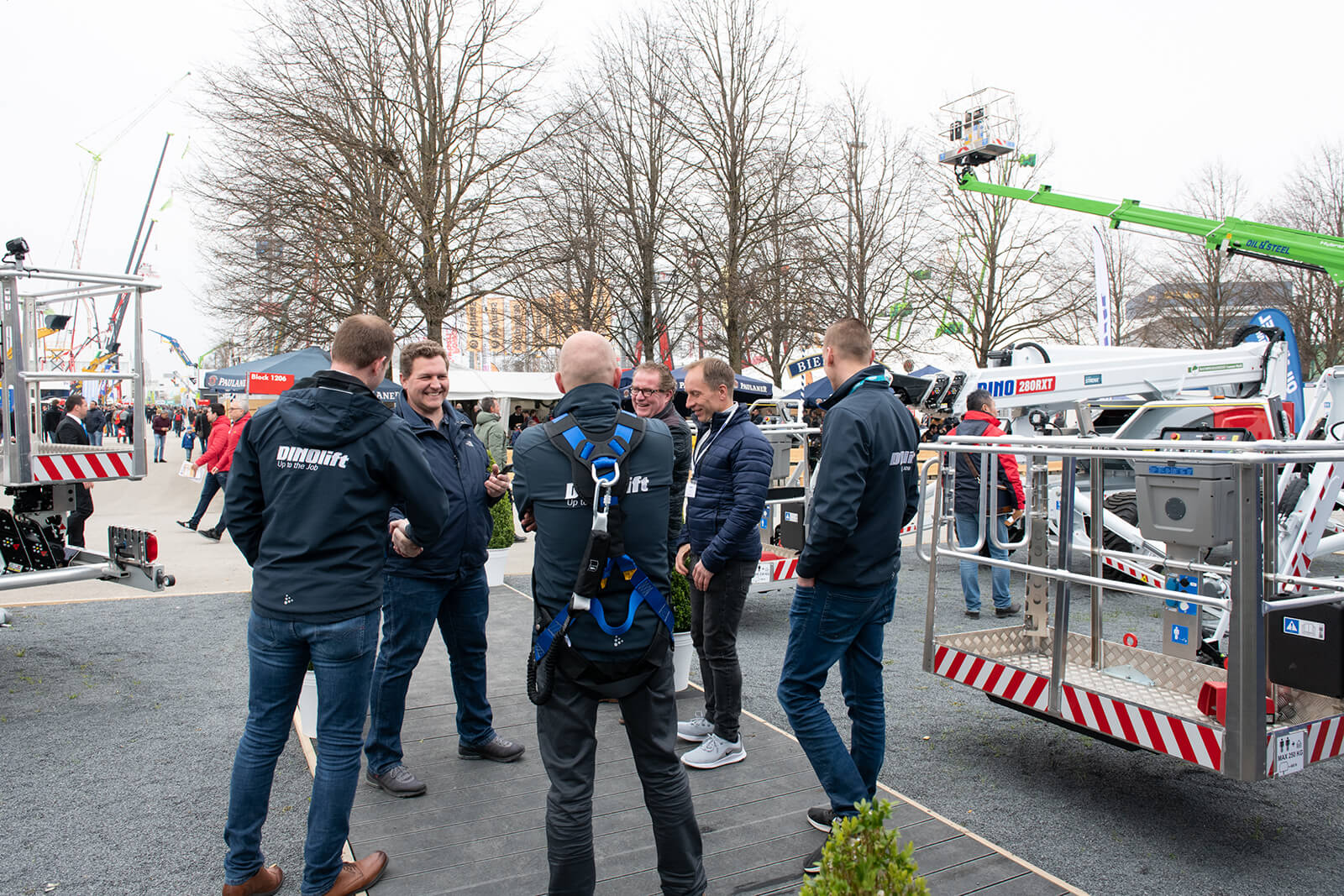 The DINO sales team in action before the global pandemic hit.
Photo credit - Dinolift
Old habits die hard
However, they say a leopard can never truly change its spots and that is true of the Dinolift team as well. While digital events greatly enrich the event circuit and provide us with the opportunity to streamline unnecessary travel, we are human beings and crave personal interaction.

"There is no replacement for meeting in person. There are places that you simply have to visit. For example, I have never been to the Middle East and only know about everything there from videos and maps. Sometimes you just need to see how people are operating these machines and how they are being handled. This you cannot replace; it simply has to be done in person," Wiese concludes.

When asked about whether she is looking forward to meeting people face-to-face again, Dinolift's managing director Karin Nars simply says: "I really miss singing karaoke with customers and colleagues from all over the world. Let's just say I will never do that online!"