Lisa Toresson and Karin Nars have a great deal in common. Both are women in the male-dominated manufacturing and rental industry and both have taken over leadership in their respective family-owned businesses, Hyreslandslaget and Dinolift.
Karin: Tell me, when and how did you start working at HLL?
Lisa: The year was 2013 and it was a coincidence. I needed a job for the summer and HLL needed someone to assemble new machines, roll cables and wash – you name it. And here we are. I had so much fun that I quit my studies and started working full-time.
Karin: For me, it was different. It was 2009 and a difficult time for Dinolift – mostly because of the financial crisis but also because my father, Lasse, was seriously ill. I only got 18 months together with him in the business before he passed away and I took over as managing director. I was very open about needing everyone's help to succeed. How was it for you? Did it matter that you were the daughter of one of the owners?
Lisa: I have my father, Börje, still working with me in the company. Today, we have our desks side by side and I have always felt I have both his and the other founder Sune's full confidence. For sure, it has helped that my surname is Toresson, but from the start I have wanted to shape my own identity and not be Börje's daughter at work. It was definitely a success factor when we told the organisation that I was going to step into the role I have today.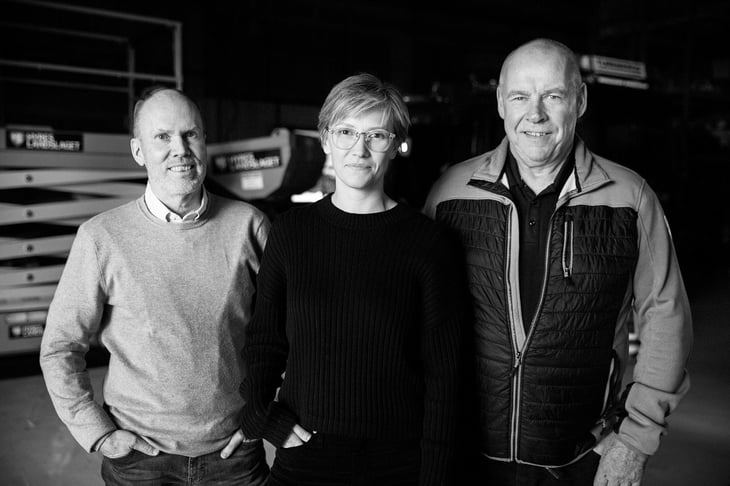 Lisa may be the boss now, but she is surrounded by decades of experience.
Photo credit - HLL


Karin: Have you felt it an advantage to be a woman in this industry?
Lisa: Yes and no. Börje usually says that my biggest advantages are also my biggest challenges: that I am a woman, that my name is Toresson and my age. The construction industry in Sweden has its challenges when it comes to equality, but nowadays the industry is actively attempting to make it more attractive for women.
Karin: I felt it was easier for me to shape my own identity at Dinolift being a woman. What personal characteristics helped you coming in to the company?
Lisa: I was completely transparent about not knowing anything about machines. That helped me get a genuine connection with the customers and I was able to form tight relationships that I still have today. The customers showed me more patience than they would have a man and that helped me become really good at what I do. That proves that showing a profound interest in people is more important than being the best and most knowledgeable in every situation.


Karin: How did you plan the successful transition?
Lisa: We made the decision two-and-a-half years ago. A lot was going on in the market, new competitors were entering and many in the industry wondered if HLL was going to be sold. We created a business plan in which we stated that HLL would be a company owned across generations where we do not lose valuable knowledge. Today, we are three persons leading the company instead of two. But I admit I do think about the future when Börje and Sune are no longer actively involved. Time will tell!


Karin: What is the future for HLL?
Lisa: One thing is for sure, we like developing and looking ahead – that will never change. We have an expansive phase with strong growth behind us. HLL has grown from a child to a young adult and that has brought with it a sense of calm and maturity. We want to continue doing things our way. It has been our recipe for success so far and that will continue.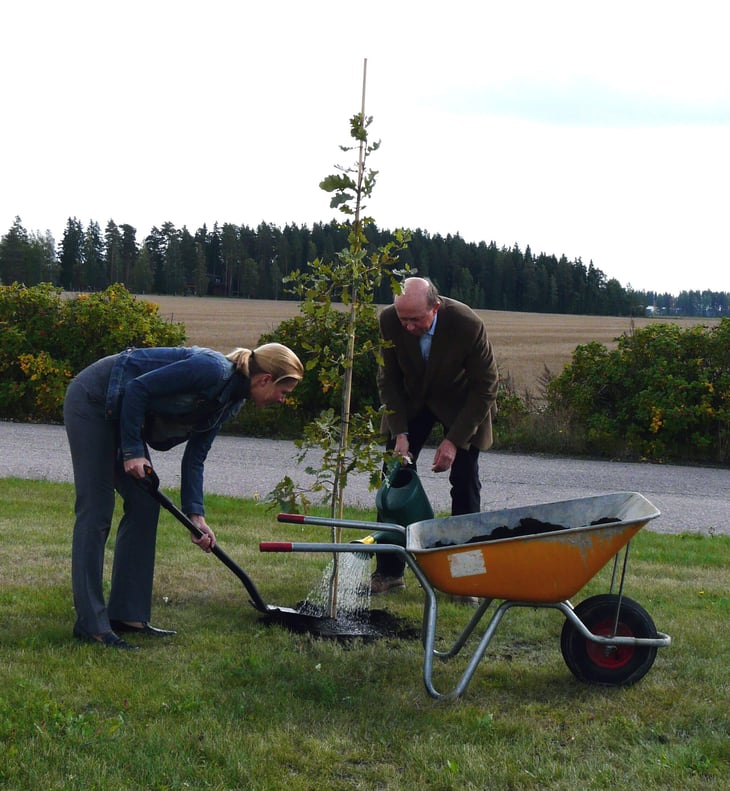 An oak tree being planted by the factory – a gift from Dinolift's employees for Lasse's 70th birthday.
Photo credit - Dinolift


Karin: Does it mean something to your customers that you are a family-owned business?
Lisa: It is clear that there are customers with whom we have a special relationship; customers that have grown together with us and who share our history. However, the most important is to do what you say you are going to, that you show in your daily activities that the customer is the number one priority.
Karin: Thank you for a really nice chat, Lisa. A big hug to you and please give my best wishes to Börje!