Whether working or vacationing, everyone tries to make the most of the sun and warmth of those precious summer days. See what the DINO family is up to this summer!
Summer in the Nordics is short but sweet, with nightless nights and nature blooming as though there's no tomorrow. It's a time when many people have their holidays, and offices go quiet.
Some might even suffer from summer stress, the feeling that you're missing out if you're not spending your every waking moment in the sun and the great outdoors with friends and family!
We asked Dinolift's distributors and employees how they are spending their summer months.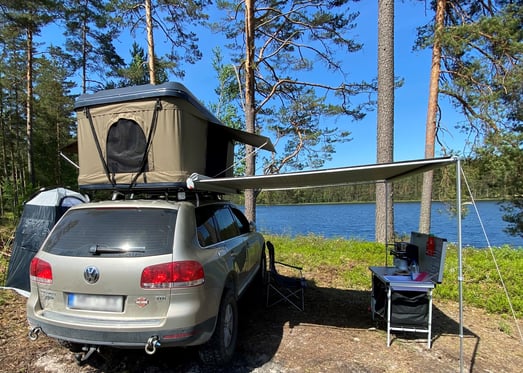 Oliver Vainokivi's camping setup next to Lake Paidra in southern Estonia.
Credit: Oliver Vainokivi

On the back of a Harley
Sales manager Oliver Vainokivi works at Laadur OÜ in Tallin, Estonia. He is responsible for the distribution of Dinolift in the Estonian market.
For the most part, Vainokivi spends his holidays doing what he loves best: riding a Harley Davidson motorcycle and camping around the country.
"If I'm traveling by car, I sleep in a roof tent which is a handy solution, if you like camping. Often, I just hop on my motorcycle to explore nature and other sites," he says.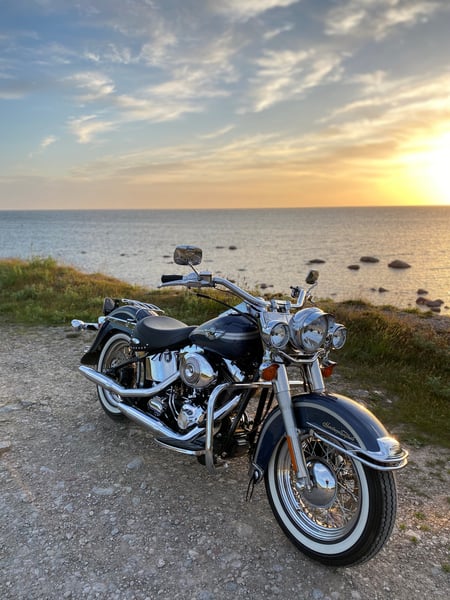 Vainokivi's Harley at the Ohessaare Nature Reserve on Estonia's largest island Saaremaa.
Photo credit: Oliver Vainokivi

Pole hunting we go!
Thorbjørn Nilgard, Dinolift distributor and key account manager at Hybeko in Norway, has a very active summer planned. He will be exploring the Norwegian and Danish countryside by bike and on foot.
"This summer I will go biking around the southern part of Fyn Island in Denmark. Egeskov Castle is a sight to be seen! Over the course of one week, we will travel about 100-150 kilometers," Nilgard says. "I'm also going to attend the wedding celebration of a family friend."
He also has another hobby that keeps him preoccupied during the summer months.
"It's like geocaching, but instead of hunting for secret stashes, you hunt for poles marked with different colours. The poles can be found all over Norway and it gives you an opportunity to get to know new routes and places both in cities and the wilderness. It has become a hobby my friends and I really enjoy."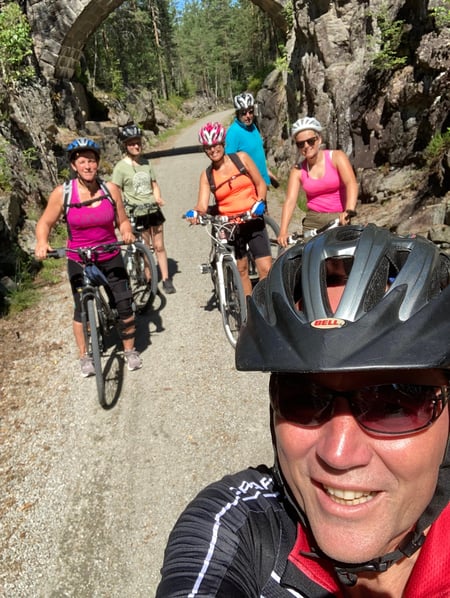 For Thorbjørn Nilgard (front), summer includes activities ranging from pole hunting to biking with good friends.
Credit: Thorbjørn Nilgard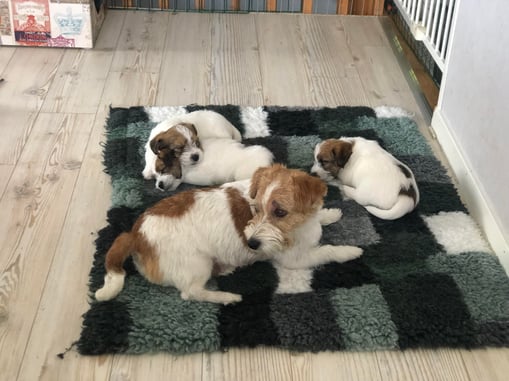 Kajsa's four puppies have already found new homes.
Credit: Mathias Wetterberg
Puppy duty and mountain biking
Mathias Wetterberg is a sales manager and distributor working at Instant ZipUp in Gothenburg, Sweden. His summer has been filled with taking care of a litter of puppies.
"Our dog, Kajsa, is almost six years old. She is a precious family member who loves to be around people and takes part in our daily activities. This summer she had four puppies, so there was a lot of action as we have all been taking care of the little ones!" Wetterberg says.
Besides playing puppy babysitter, Wetterberg has been riding his new eMTB mountain bike in the woods outside Gothenburg and spending time at his summer house.
"We have a summer house on the west coast of Sweden in Grundsund where we also like to go boating and kayaking."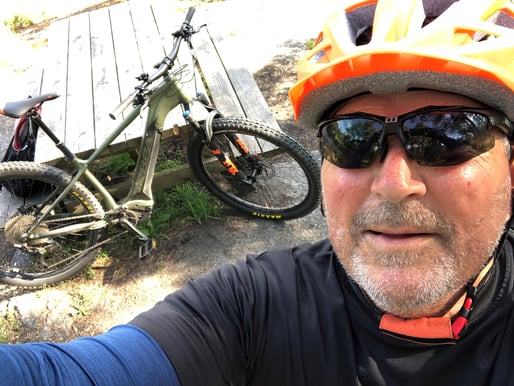 Mathias Wetterberg says he cycles a whopping 40-60 kilometers three times a week during the summer.
Credit: Mathias Wetterberg

Greetings from Korea
A summer spent working doesn't have to be dull! Dinolift's Digital Marketing Specialist Mina Lim is working remotely from her native South Korea.
"This summer is very special for me because I decided to spend my time on the beautiful island of Jeju back in my home country! Jeju is a volcanic island in the southwest corner of the Korean peninsula. It's full of golden beaches, majestic mountains, and coastal trails," Lim describes.
"My day starts with a relaxing walk along a trail near the house I have rented. I can follow signposts along the way to finish the walk. After lunch, I slowly start my workday when my colleagues in Finland arrive at their desks. I'm delighted to be able to work remotely, while creating good memories with my family!"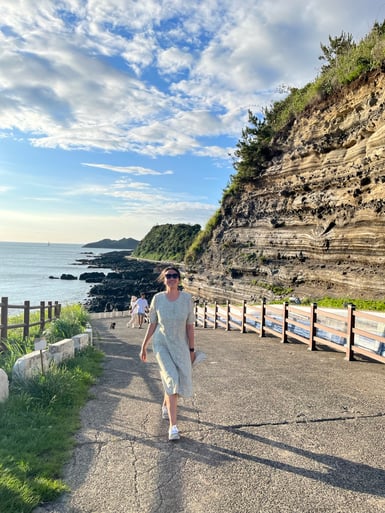 Before Mina starts working, she walks along the coastal cliffs of Eongal Coast on Jeju island.
Credit: Mina Lim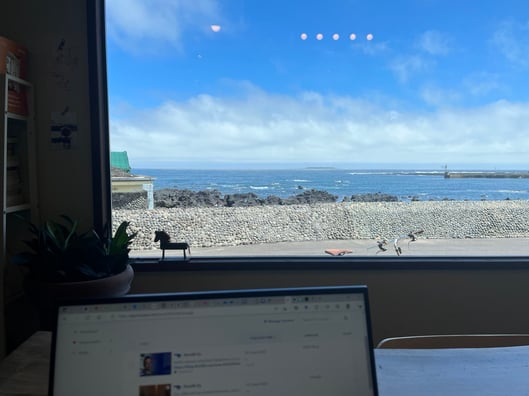 Remote work on South Korea's Jeju Island has been a pleasant experience for Mina Lim.
Credit: Mina Lim