After a rocky start, Hurrikaani-Loimaa are completely focused on getting into the playoffs. But this club's priorities are focused far beyond the volleyball court.
Hurrikaani-Loimaa is a volleyball team from Loimaa that plays in the Finland Volleyball League – the highest level of men's volleyball in Finland. Founded in 2007 and sponsored by Dinolift among others, it has been an intrinsic part of the local community, not just on the court but also through its efforts to serve the local community. Dinolift also offers its employees seasonal tickets to the games so they can support the boys on a regular basis after work and during weekends.

The name Hurrikaani means 'Hurricane', a tropical storm that is unpredictable and powerful. The team is backed by an active group of volunteers and a club that organises matches and different events for the local community. The club even has its own YouTube channel, called 'TheHurrikaaniTV'.

"Our mission is not just to have a successful volleyball team but to bring joy to the local community and support junior players," says Anssi Rämö, the club's executive director.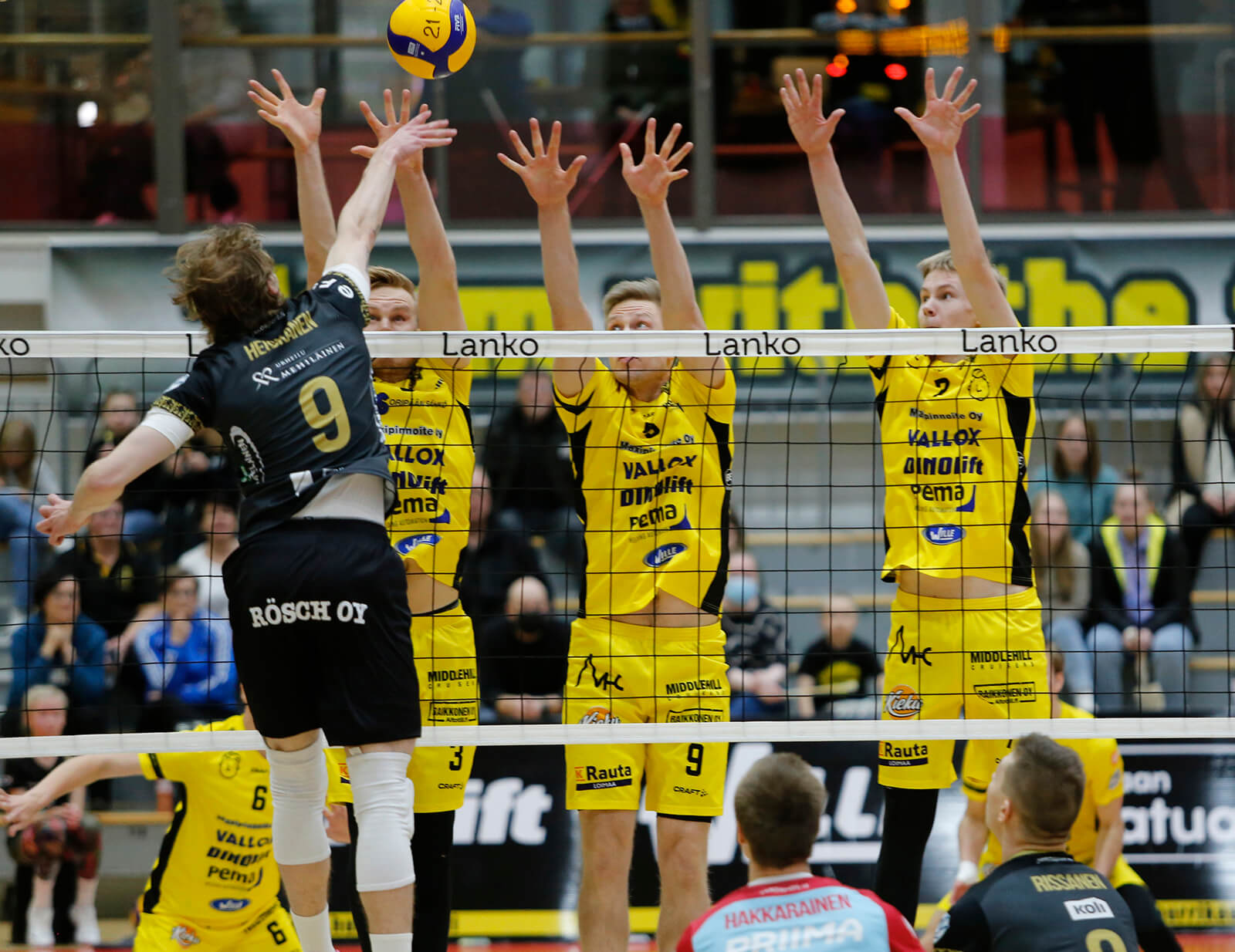 Coach Jussi Heino says helping the players to grow is the reason he enjoys the job so much.
Photo credit - Hurrikaani-Loimaa
Fostering new talent
Current coach Jussi Heino joined the team four seasons ago and has since focused on fostering new talent instead of acquiring more experienced players from abroad.

Injuries blighted the start of this season and impacted results, while the team also changed around half of its entire roster. The global pandemic also didn't help preparations, either. However, things are now picking up.

"It takes its own time for the newcomers to integrate to the team and learn how we do things," Heino points out. "Since last autumn the game has picked up and the team has been steadily working its way to better results. The best thing is to see how the players progress and grow," Heino explains.

Due to the pandemic, some games have been played without any crowds. To compensate for the loss of ticket sales, the club organised a support campaign; by donating a sum of your choosing, you got your name shown during the TV broadcast of the match.

"Even without an audience, our boys give their best in matches. And the supporters are there in spirit," Heino says. "Right now, we're focused on winning as many matches as we can throughout the rest of the season and preparing for playoffs."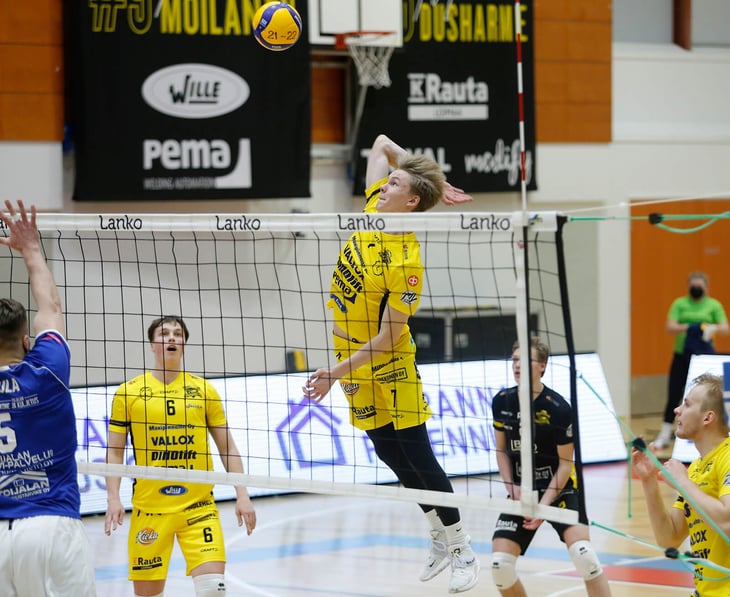 Santeri Välimaa (left) appreciates the work done by the club's volunteers and Aleksi Muukkonen has felt welcomed by the team and the locals.
Photo credit - Hurrikaani-Loimaa

Fans are the best
Santeri Välimaa has played in Loimaa for three seasons. He got into volleyball by watching his two older brothers when he was a boy. But how has he settled into life in a small town?

"The fans are great in Loimaa – when people are able to come and see the matches there really is a crowd! Even when we are not playing at our best, they still have our backs," Välimaa says. "Community is a big reason why I have settled here and love living in Loimaa. The locals here follow what we are doing, and they even come over and talk to us on the street."

Hurrikaani-Loimaa also supports Jankko by partaking in their training sessions and organising sports events like Trombilandia for children. Trombilandia is a fantastic event that allows kids who don't play in with Jankko the opportunity to experience the joy of sport. Dinolift is also active in both of these areas, investing in youth by sponsoring Jankko and helping to ensure that children in the Loimaa region have the chance to play and progress.

"I would have been ecstatic if older players had come to practice with us when I was a junior player," Välimaa exclaims. "It's motivating to see kids happy and excited that we have turned up to teach and support them."

Hailing from Parikkala on Finland's east coast and formerly a player at ETTA in Oulu, Aleksi Muukkonen is a newcomer who recently renewed his contract for another season. He says moving to Loimaa has been a good choice for him, as his teammates are of a similar age and there is a strong bond in the squad.

"I'm not just playing volleyball and staying at home doing my own thing. The social life is quite active here and I have been included in school visits and other activities outside training."

Both players admit that for the rest of the season, fighting for silverware is everybody's main objective.

"The game has become better since the team has welded together. The expectations are high!" Muukkonen confesses.

"We have got our groove back and this has resulted in us climbing the league table. After last year's bitter disappointment in the playoffs, we're now geared up for a good fight," Välimaa concludes.
Read more about how Dinolift is committed to supporting local sports teams.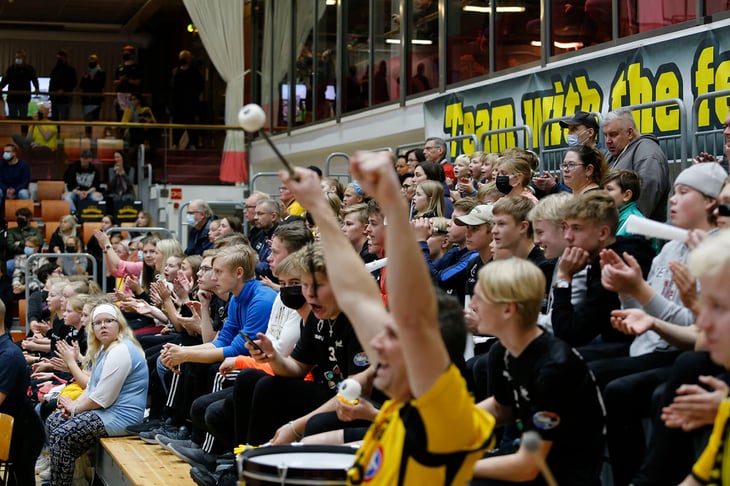 The community feel is strong in Loimaa, which shows at the volleyball matches as well as outside the court.
Photo credit – Hurrikaani-Loimaa